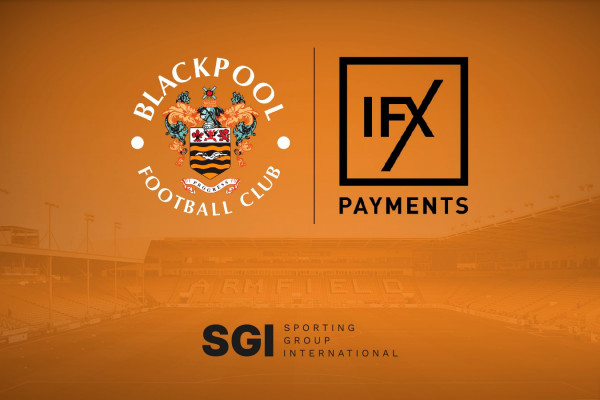 Sports partnership and recruitment specialists Sporting Group International has brokered a new deal for IFX Payments to be the Official Foreign Exchange Partner of Championship football club, Blackpool FC.
The new two-year commercial partnership and supply agreement will see IFX Payments support The Tangerines with all international transactions, whilst its logo will appear on the kit worn by team management for training and on match days.
Martin Booker, Blackpool FC's Commercial Manager, added: "We are delighted to welcome IFX Payments as our latest official sponsor. The IFX Logo will be prominent on all the management team's benchwear on match days. In addition, they will become our official FX Partner promoting their business services to our partners and corporate clients for foreign exchange payments. We look forward to working together on this new partnership."
Operating for more than 16 years, IFX Payments has built a simplified digital payment experience for corporate and private clients throughout the UK, Europe, the Middle East and Australasia. However, its platforms offer a range of complete banking processes.
Charlie Bannister, Head of Sponsorship at Sporting Group International, said: "IFX Payments is a rapidly expanding company and it is well known in the football world through its long-term work with Brentford. We're thrilled to be able to help it expand its sponsorship portfolio and also support Blackpool with a new partner that can help it navigate the world of foreign exchange."
Sporting Group International operates from Birmingham, New Delhi and a newly opened European office in Dublin. The partnership between IFX and Blackpool is one of several commercial partnerships brokered by the firm in football in 2022 and it is currently supporting Bolton Wanderers in securing a new naming rights partner for the current University of Bolton Stadium.
Will Marwick, Chief Executive, IFX Payments, said: "We are delighted to partner with Blackpool FC as their exclusive FX provider. Our goal is to partner with clubs who uphold a customer first ethos and we're thrilled to have been welcomed to the Blackpool family who mirror those values. We're excited to support the Seasiders in the Championship and wish the team every success."
For further media information, please contact Tom Rawlings on 07789 813999 or email press@sportinggi.com