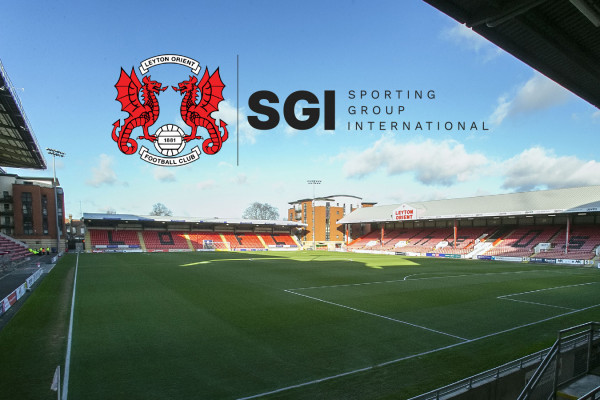 Sky Bet League Two leaders Leyton Orient Football Club has appointed global sports partnership and recruitment specialists Sporting Group International to lead its quest to secure a new stadium naming rights partner.
The East London club's Brisbane Road stadium has been its home since 1937 and it currently boasts a capacity of nearly 10,000. The Club is seeking a new partner to replace the Breyer Group, which had enjoyed a four-year naming rights partnership with Orient that ceased at the end of the 21/22 season.
Charlie Bannister, Head of Sponsorship at Sporting Group International, said: "Leyton Orient's stadium is known to football fans around the world. It's hosted men's and women's international fixtures, it's had significant redevelopment over the last 20 years and its location is easily accessible from Leyton tube station.
"The team is flying at the top of League Two at the moment and we're very excited to support the ambitions of Chief Executive Mark Devlin by bringing a new naming rights stadium partner into the club."
Sporting Group International has delivered multiple lead partnerships for football clubs across Europe in the last two years and has its global headquarters in Birmingham in addition to a European office in Dublin and an Asia office in New Delhi.
Mark Devlin, Chief Executive of Leyton Orient FC, said: "Brisbane Road, home of Leyton Orient for nearly 80 years, is an Iconic Stadium. Following an agreement last season, The Stadium is now also home to Tottenham Hotspur Women's team in the WSL.
"The Club aspires to grow, both as a business and on the field where we aim to be playing as high up the English Football pyramid as possible. We are building a sustainable business, in an area of London, which is currently undergoing significant regeneration, which will see not only a new generation of fans moving into the area, but also attracting worldwide organisations and companies.
"It is a great time for brands to be involved with the Club, and the naming rights to our historic stadium represent a major opportunity to be part of our journey and to grow awareness and revenues, both nationally and internationally."
For further information about Sporting Group International, please click here.
For further media information, please contact Tom Rawlings on 07789 813999 or email press@sportinggi.com