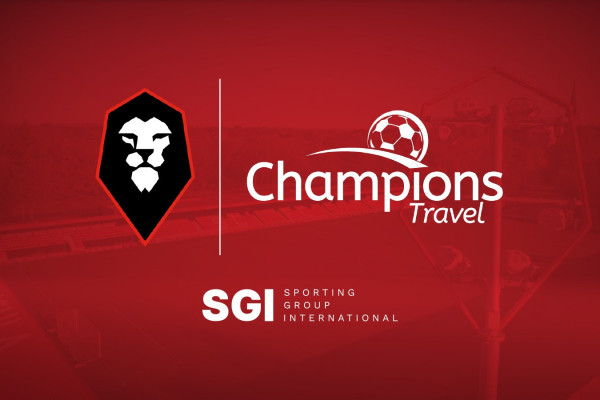 Salford City Football Club and Champions Travel forge exciting partnership with support from SGI.
Sporting Group International is delighted to have supported Sky Bet League Two club Salford City in developing a new commercial partnership with Champions Travel for the 2023/24 domestic football season.
Having been secured in the exclusive position of Official Match Breaks Partner, Champions Travel will be positioned on the back of the men's team playing shorts throughout the new season, which Salford City started last Saturday with victory at Forest Green.
Nicky Butt, Chief Executive at Salford City, said: "We're always keen to create commercial partnerships that provide new opportunities for our fanbase. We're thrilled to have done this by working with Champions Travel, which provides premium ticketing and hospitality experiences across Europe.
"The team at Sporting Group International have been fantastic in helping us develop this new agreement and we're very grateful for their support."
Sporting Group International has brokered multiple partnerships for football clubs across Europe in recent months, including Watford, Valencia women's team and the biggest sponsorship deal in the history of Bolton Wanderers, through its stadium naming rights agreement with Toughsheet.
"There's a fantastic story behind the rise of Salford City to the EFL, under the ownership of the Class of 92," said Taylor Ryan, Sponsorship Sales Executive at Sporting Group International.
"They came very close to another promotion last season and, having spent time working with Nicky Butt and his wider commercial team in recent weeks, the club has great ambitions on and off the field. Sporting Group International is delighted to be supporting these goals through this new partnership with Champions Travel and we look forward to continuing the relationship and following their progress throughout the season."
Champions Travel has a large portfolio of premium ticket and hospitality opportunities for major sporting and music events across Europe. The firm is an official agent for multiple iconic football clubs and venues, including Arsenal, Celtic, Barcelona, Liverpool, Manchester City, Manchester United, Wembley Stadium and many more.
Kevin Ward, Director and Owner of Champions Travel, said: "This sponsorship holds a special significance for me personally having closely followed the careers of the Class of '92, and we are looking forward to supporting the Club's upwards trajectory in the future. We are delighted to begin our partnership with Salford City, and to start offering match breaks to all our customers."
For further media information, please contact Tom Rawlings on 07789 813999 or email press@sportinggi.com