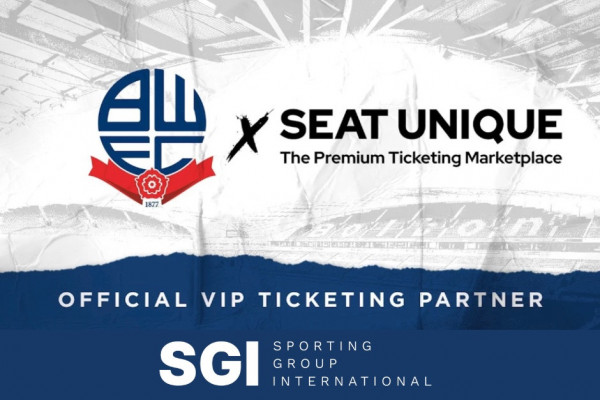 Sports partnership and recruitment specialists Sporting Group International has brokered a new deal for Seat Unique to power the hospitality sales of global superstar P!NK's two nights at the University of Bolton Stadium – home of Bolton Wanderers FC.


General admission tickets are now almost sold out but Wanderers have a range of fabulous hospitality packages available for what's set to be an unforgettable two nights under the lights.
Official hospitality packages for both concerts can now be purchased through Seat Unique – a premium ticket marketplace that offers a simple and safe way to book tickets online.


Neil Hart, Chief Executive Officer at Bolton Wanderers said: "We're delighted to be partnering with Seat Unique to bring our VIP premium hospitality packages to fans for the upcoming P!NK concerts in 2023.
"As a club, we are undertaking a wider review of all our hospitality packages and we look forward to continuing our work with Seat Unique as we aim to broaden our offer on their impressive platform."


Robin Sherry, Chief Executive Officer at Seat Unique said: "Seat Unique are delighted to be working with Bolton Wanderers to power their concert sales for 2023. With high calibre performers like P!NK coming to the University of Bolton Stadium, this one was a no brainer.
"Providing access to special experiences is our mission as a company, hence we are really looking forward to working with the club in 2023 and beyond!"


Seat Unique is the exclusive online platform to purchase official hospitality tickets for the upcoming P!NK concerts at the University of Bolton Stadium in 2023. Their premium ticketing marketplace provides a single point of access to those wanting to experience the best of live sport and music, simplifying the online booking process on a safe and trusted platform.


Sporting Group International Head of Sponsorship Charlie Bannister added, 'Seat Unique are fast becoming the go-to marketplace for premium tickets and hospitality. We are delighted to have assisted in introducing them to Bolton Wanderers, enabling them to power the hospitality sales for P!NK's two performances at the University of Bolton Stadium.'
For further press information, please email press@sportinggi.com