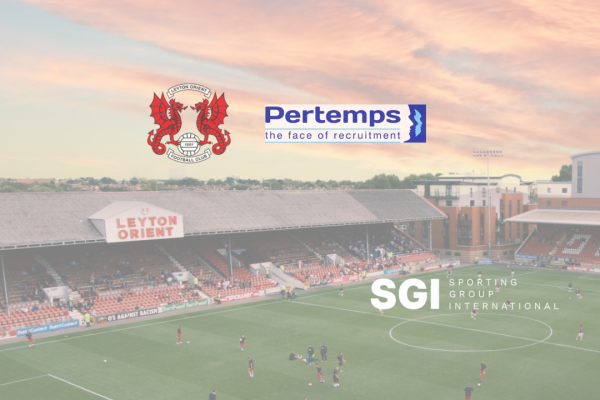 Sporting Group International (SGI), global sports marketing specialists, are delighted to announce that they have introduced Pertemps, one of the largest independent recruitment specialists in the UK, to EFL League 1 club Leyton Orient.
Ravi Patel, Leyton Orient's Chief Commercial Officer, said: "It's a real privilege to welcome Pertemps Recruitment on board and we are looking forward to them being a part of our journey.
"Pertemps are a forward-thinking business with local and national roots, with a wealth of experience across a number of different industries. We are sure our current partners, fans and those linked with Leyton Orient can benefit from our relationship with them."
Pertemps has recently been awarded Investors in People Gold Status and has retained its place on the Top 100 Best Companies to Work for in the UK for the last 16 years.
Charlie Bannister, Head of Sponsorship at SGI, commented: 'I am very excited to see this partnership come to life between two fantastic organisations.
Pertemps are the UK's leading recruitment specialists and Leyton Orient are going from strength to strength on and off the pitch so I am confident this partnership will be a very successful one.'
This partnership is the latest in SGI's sponsorship portfolio which includes the recent acquisition of a La Liga front of shirt opportunity.
Tim Jones, Head of Sponsorship at Pertemps, added: 'I am very delighted to announce this deal and for Pertemps to a part of an iconic football club such as Leyton Orient.
Hopefully, the team can build upon their recent successes and we can enjoy another successful season together.'
For more information please visit, www.leytonorient.com, www.pertemps.co.uk or www.sportinggi.com