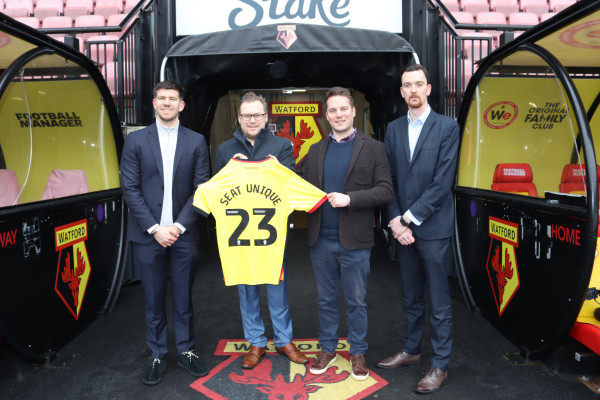 Global sports sponsorship and recruitment specialists Sporting Group International has brokered a new partnership for EFL Championship club Watford FC with Seat Unique.
The agreement will see Seat Unique become The Hornets' Premium Seating & Hospitality Partner for all football matches and other headline events at the club's Vicarage Road Stadium over the next three years.
Through the partnership, premium matchday experiences at the award-winning Vicarage Road hospitality lounges, can now be purchased through a simplified online process with Seat Unique.
Robin Sherry, CEO and Founder of Seat Unique, said: "It is a privilege to be working with Watford FC. As the exclusive provider of premium seating and hospitality packages, we're delighted to offer fans around-the-clock access to unforgettable experiences at a host of unmissable fixtures.
"We're looking forward to welcoming even more fans to Vicarage Road Stadium and giving them a taste of the ultimate game day experience. Here's to another successful season for The Hornets!"
Sporting Group International has offices in Birmingham, Dublin and New Delhi and this latest partnership is one of several that it has brokered for leading European football clubs in the last 18 months.
"It's been a privilege to help Seat Unique expand its growing portfolio of clients by bringing it together with such an established and celebrated football club, in Watford" said Charlie Bannister, Head of Sponsorship at Sporting Group International.
"It's been a very exciting project to support and it will lead to an excellent partnership that can further develop the great hospitality experience that is provided to visitors at Vicarage Road Stadium."
Alongside Watford FC, Seat Unique is working with multiple sporting clubs, venues and tournaments, including the European Tour, Scottish Rugby, Wales Rugby Union and the Ageas Bowl in Southampton.
Paul O'Brien, Commercial Director at Watford FC, said: "We are delighted to have partnered with Seat Unique, now one of the most recognisable brands in hospitality. At Vicarage Road we are always looking at how we can be more innovative and efficient, it is clear that Seat Unique are the perfect organisation to further enhance the Club's premium offering at Watford FC."
"Watford have some of the best facilities in football, so having Seat Unique's world class tech powering the process, will further enhance and increase our offering."
For further information about Sporting Group International, please click here.
For further media information, please contact Tom Rawlings on 07789 813999 or email press@sportinggi.com