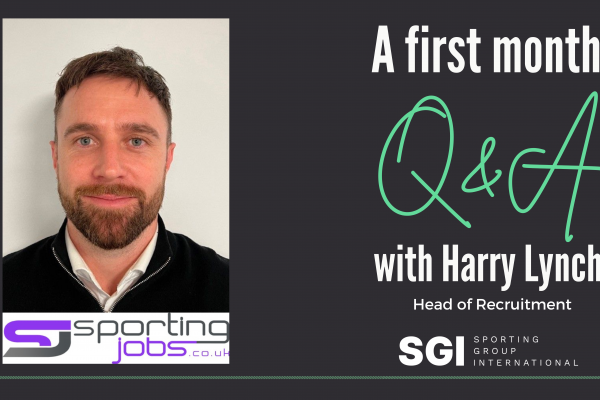 We sat down with Harry Lynch, Head of Recruitment, within our sister company SportingJobs, to reflect on Harry's first month in post.
So, Harry, how have you found your first month as Head of Recruitment at SportingJobs?

My first month at SportingJobs has been nothing short of amazing.

For those that don't know me, I turned 32 this month and have spent my career split across both recruitment and sales within the construction industry but my passion away from work has always been Sport. Lots and lots of Sport!

From playing football on both Saturdays & Sundays, running marathons and spending hours on the golf course, I am also an enormous fan of various sports including Boxing, Tennis, UFC, Cricket, NFL & everything in between.

To now be able to work around the world of sport and be chasing key appointments within huge clubs, teams and sporting organisations is just brilliant and has led to a great start.

I'd like to think that my knowledge and enthusiasm for sport has been one of the many things contributing to this!
What has been your highlight so far?

I have recently placed a Chief Commercial Officer within a high-profile football club in the English Football League.

To work on this project was not only a great way to introduce myself within Football but it has also shown me the strong reputation that both SportingJobs & SGI has across the UK and Europe.
Is the role what you expected?

Yes – although I still can't believe I am allowed to talk about sport all day and call it work!
What is the most interesting sport you are recruiting within at the moment?

I have some really interesting roles across my desk currently but the one that would stand out is a particularly senior appointment within the world of 'Combat Sports'. This is a sport that is growing rapidly across Europe and America and is only getting bigger with the stories of people like Leon Edwards, a UFC fighter who is local to us in Birmingham, who has just 'shook the world' by winning the UFC Welterweight Belt.
What are your goals over the next few months?

In the next few months, SportingJobs will be going through a re-brand that will include a new logo and website and aims to bring us more aligned with SGI, our sister company, that operates in sport sponsorship on a global scale.

I am really excited to be leading this and look forward to sharing lots of press releases and stories in the future based around positions we have filled, roles we are working on and industry news too.


What's your favourite part of sharing an office with Sporting Group International?

Being around the team at SGI has been a huge help in my start at SportingJobs.

They are working on several campaigns across Rugby, Football & Cricket currently, and have been working in this area for 7+ years now so I have been able to lean on their network of contacts and tap into their valuable experience when needed.

This has been a huge help when recruiting for various roles across all different levels of seniority and in different sports as they seem to know everyone!
The SGI team are thrilled to have Harry leading the SportingJobs Team, as we continue to work closely together to provide a well rounded global service to the sporting industry.