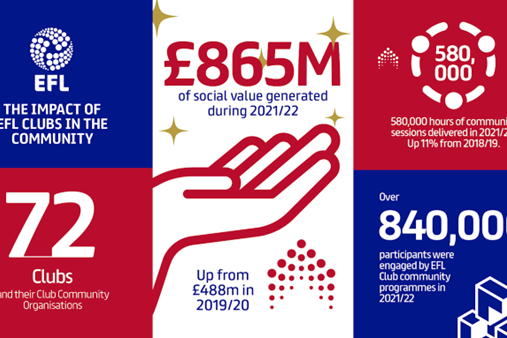 New report reveals social value and impact of EFL Clubs in the community.
EFL Clubs and their Club Community Organisations create over £865m of social value across England and Wales
More than £101m generated for community investment
Financial sustainability of EFL Clubs key to the continuation of community work
Launch of report kicks off EFL's Week of Action campaign
Today, as part of the English Football League's (EFL) annual Week of Action, the League has launched a new report highlighting the significant role that its 72 Clubs play in supporting communities across England and Wales.
Produced by research experts Substance using data from 2019 to 2022, the report shows that EFL Clubs and their Club Community Organisations (CCOs) generated more than £865m (£865,196,135) of social value to towns and cities across the country through ground-breaking community programmes during the 2021/22 season.
This is the first time a social value has been attributed to the work of EFL Clubs as a collective, providing invaluable insight for commercial development and its projected growth in accordance to social value.
It represents the estimated savings to public spending and other forms of social value that Clubs and CCOs have delivered in areas including physical health, mental wellbeing, education, and employment.
In the second version of the 'Measuring the Impact of EFL Clubs in the Community' report, EFL Clubs are shown to be responding to the needs of their communities at an unprecedented scale with more funding and investment raised than ever before (£101m), more partnerships developed (6,744), larger numbers of staff and volunteers deployed (9,922) and more facilities and in-kind support made available to local people valued at over £40.8m (£40,848,263).
The reach of community work delivered by EFL Clubs is vast and during the 2021/22 season, over 840,000 participants were engaged on EFL Club community programmes over almost 580,000 hours of community sessions and events – this is an 11 per cent increase on 2018/19.
Updated figures show that 80 per cent of the population (47.6m people) in England and Wales live within 15 miles of an EFL Club, highlighting the direct and tangible impact that EFL clubs have on local communities and the scope of outreach for commercial partnerships.
The report also quantifies the significant impact that Clubs had in their communities during the pandemic period with over 40,600 community members engaged in 8,752 COVID-19-related sessions and events resulting in more than 42,000 hours of support.
Launched in 2017, the Week of Action sees Clubs and CCOs from across the EFL's three divisions showcase some of the most impactful community projects with managers and players joining participants across the country; an insight that allows brands a look into the potential for both commercial growth and being able to give back to their community and strengthen their relationships with consumers.
Rick Parry, Chair of the EFL, said: "This report provides substantial evidence that our Clubs continue to be at the heart of their communities, bringing life-changing opportunities that leave a lasting impact.
"The need for EFL Clubs to continue as catalysts for social change remains, with an increasing scale of Club community work delivered since 2019. Financial sustainability for EFL Clubs is key to enabling them to continue as a force for good in their communities."
Liam Scully, Chair of the EFL Trust, said: "We're immensely proud of the community support delivered by EFL Clubs and CCOs and are thrilled to now be able to put a social value on this good work. We look forward to showcasing some of the most impactful community projects throughout this year's Week of Action."
With increased focus being placed on CSR within sports partnerships, this report provides an insight into how investing in sport partnerships is no longer purely a commercial decision, but a relationship founded on synergy of values. For brands that are committed to generating positive impact for their local and wider community; establishing partnerships within the EFL are now statistically backed to improve community engagement with a first ever associated social value.
To download a full copy of 'Measuring the Impact of EFL Clubs in the Community' report and to see how entering into socially conscious partnerships can benefit both your brand and your community, click here (PDF version).