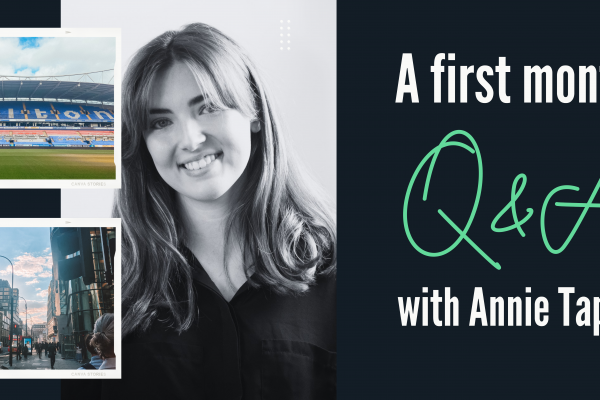 Annie Taplin joined Sporting Group International a little over a month ago and it is fair to say her time so far has been very busy! We sat down with Annie to get her thoughts on her first month at SGI.
So, Annie, how have you found your first month with SGI?
"I'm absolutely loving it; I've joined the team at such an exciting time with so many great projects in the works, it's really been a chucked straight in the deep end environment but I'm loving it. It's been great to come in while there are multiple projects active at different stages because I'm getting to understand each element of the process and how they impact each other."
What has been your highlight?
"It's hard to pinpoint a singular moment, I think it's definitely the element of getting out on the road and meeting the amazing people that we work with. Not only that but seeing the assets we are working on in person and visualising these with our brands is always fun."
Is the role what you expected?
"Yes, the role is pretty much exactly what I expected but it's surpassed my expectations in terms of enjoyment and scope."
What do you like about your position?
"I'm enjoying understanding the requirements of the rights holder and then going to market and finding brands that match the ethos and values of the organisation. At the end of the day, finding a partnership that is not only beneficial but also holds synergy between each side is always rewarding."
Have you faced any challenges in the first month?
"I think the fast-paced environment and being able to adapt to each campaign has been interesting and challenging in the way of learning the ins and outs of a new role but also keeping up to date with industry updates across an array of sports."
What are you goals for the next few months?
"Over the next few months, I'm excited to get stuck in and assist on multiple exciting campaigns that are operating over multiple territories; this is an element of the role that I am really enjoying. I am hoping to initiate some solo campaigns and continue to support brands that are looking to expand into sports marketing and placing them in the sporting environment they would like to gain exposure in. The sky's the limit!"